Clutha
About Clutha
Take a journey off the beaten track to Clutha. Located between the cities of Dunedin and Invercargill on the Southern Scenic Route, this stunning district is a celebration of nature and history in New Zealand's deep South.
Unique and unspoilt, Clutha is home to the Catlins, an area filled with natural wonders such as the triple tiered waterfalls, lush rainforest and beautiful beaches. Take a trip to iconic Nugget Point or the majestic Cathedral Caves. You might even spot some of New Zealand's most precious and endangered penguins and fur seals along the way.
With so many things to see and do, Clutha isn't just a stop on the way. It's a place to 'be'. So come, visit Clutha, and stay a while. A warm welcome to unique and unspoilt Clutha.
History
Visit charming historic Lawrence which was the centre of one of the World's largest and fastest ever gold rushes after miners got lucky in nearby Gabriels Gully in 1861. This is also where the first ever bike in New Zealand was built, so it is fitting one of country's great cycle rides now passes through this Victorian gem, following the mighty Clutha river into the majestic Beaumont Gorge. Further south our fantastic free ferry which goes with the flow at Tuapeka Mouth is the only public punt left in the southern hemisphere. Rugged landscapes and rugged characters from early Maori to miners and pioneer settlers have helped shape Clutha all the way from the Blue Mountains down to the Catlins coast.
Clutha Website Links
Start planning your trip now, these website links will help: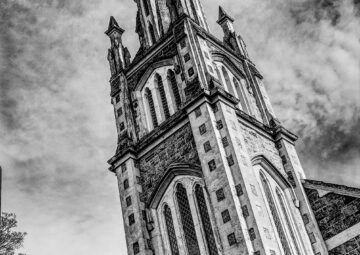 Milton
The town's main landmark is the Gothic-inspired Church which opened in 1889. The almost forgotten coast around beautiful Bull Creek, Chrystall's Beach and Toko mouth is only a short drive away. The Mcnally's track gives a bird's eye view of the town and the verdant rolling green backdrop.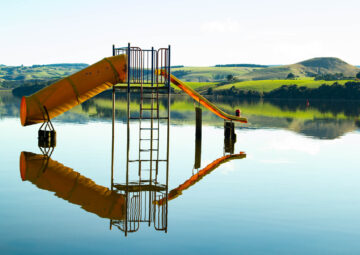 Waihola
This town lies next to the most inland tidal lake in New Zealand offers kayaking, fishing, a pontoon with water slides making it a fantastic place to relax and unwind. There is fish fresh for sale from the fleets at nearby Taieri Mouth and the lake is surrounded by a wetland wildlife haven with wonderful walks.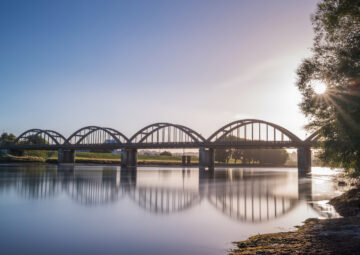 Balclutha
Balclutha is the largest town in the Clutha District and is famous for its arched bridge over the Clutha River. It is Clutha's commercial centre with a major supermarket, cafes, restaurants and a range of other shops.
The town has recreational opportunities including golf, swimming and a multipurpose recreational and function centre. Visit Naish Park for a picnic to enjoy the playground and walk the Blair Athol Walkway.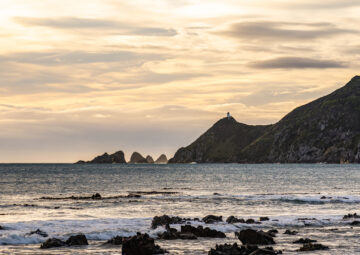 Kaka Point
A secret surfing spot with stunning scenery and a wealth of wildlife. This seaside settlement is a suitably splendid introduction to the captivating Catlins. The highlight has to be Nugget Point with its lighthouse, fabulous rock formations and staggeringly spectacular views! But it gets better – this is one of the only spots in the country where you can see fur seals, sea lions and elephant seals in the same place. While next door Roaring Bay is home to the very rare and very beautiful yellow eyed penguins.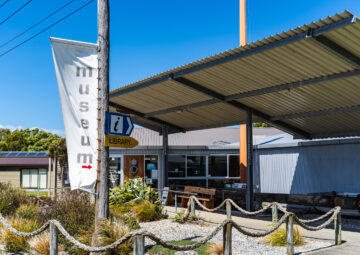 Owaka
In the heart of The Catlins, Owaka means "the place of canoe" hence the steel sculpture. The marvellous Museum is like a 3D storybook showcasing the area's rich wildlife, Maori and early settler history. Surrounded by stunning steep rainforest clad valleys and a tidal lake, Owaka and Pounawea have plenty of places to stay and the world famous Purakaunui Falls are just down the road. Nearby Surat and Cannibal Bays are rightly renowned for their seals and sea lions.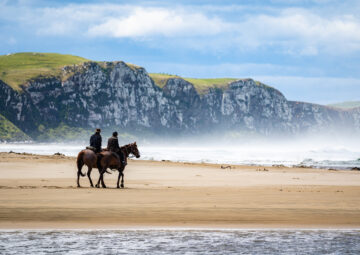 Papatowai
Papatowai means where the forest meets the sea and visitors can see why. This little village is nestled in native bush with amazing beaches and coastal walks. There are wonderful waterfalls nearby like magnificent Matai and majestic McLean while Florence Hill offers breath-taking views over the Tautuku Peninsula. Venture onto a magical, mystical boardwalk into sacred wetlands or the serene sanctuary that is Lake Wilkie. There is also one of the world's largest sea caves complexes to explore, called "Cathedral Caves" because of their sheer size and amazing acoustics. Also search out the quirky gem that could only be the Lost Gypsy with their incredible gizmos and gadgets.