Dunedin
About Dunedin
Dunedin – the perfect place to explore New Zealand's heritage and wildlife. Historic Dunedin is renowned for its abundance of Victorian and Edwardian architecture, as well as its proximity to rare wildlife. The Dunedin Railway Station,  University of Otago and First Church are fine examples of the fascinating early history of the city, which can be further explored in the spectacular Toitu Early Settlers Museum.
The city stretches around a long and beautiful harbour sheltered by the stunning Otago Peninsula, home to a colony of one of the world's rarest penguins, the Yellow Eyed Penguin. It also boasts the only mainland breeding colony of the Royal Albatross, and its rugged coastline is frequented by rare New Zealand Hooker sea lions. Dunedin offers an abundance of activities to keep you busy for days – from museums and art galleries to harbour cruises or brewery tours. Visit Olveston for an intimate glimpse of Dunedin lifestyle in the Edwardian era and visit St Clair, a sweeping white-sand beach just minutes from the central city. Enjoy the café culture in and around the Octagon at the centre of the city and try a few of the award winning restaurants, particularly those specialising in seafood. If your stay includes a Saturday be sure to visit the Farmers Market.
Dunedin Website Links
Start planning your trip now, these website links will help: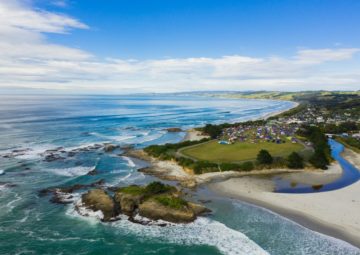 Brighton
The sleepy seaside village of Brighton, on the coast 18km south of Dunedin, is a wonderful family-friendly destination where you can swim safely, sit in the creek, have a picnic or barbecue, and fossick in rock pools.