Our Top 8 Picnic Spots
With hundreds of great picnic spots to choose from along the highway, we've chosen eight of the best. There's something for everyone – whether you're after gardens, coastline or excellent walks.
Driving along the Southern Scenic Route, you'll quickly discover there are hundreds of great spots to stop for a bite to eat. While part of the fun is to happen upon these stunning locations, we're getting you started with a list of the 8 top places to have your picnic.
Taramea/Howells Point
Another place perfect for picnics and surrounded by gorgeous vistas is Taramea/Howells Point. Along with your picnic, this spot is great for walking, fishing and bird watching. While you tuck in, you can also feast your eyes on the stunning Taramea Bay, and on a clear day see out to Invercargill, Bluff and Stewart Island/Rakiura.
Monkey Island Beach
There's nothing like calm blue seas, warm sandy beaches and a picnic to make it feel like you're truly on holiday. Monkey Island Beach is one of a kind, and complete with picnic tables and toilets it's an excellent backdrop for a lunch break. At low tide, the island can be reached at foot. A stairway will take you to the top, where you can look out over Te Waewae Bay and Fiordland's mountains.
Queens Reach Recreation Reserve
Just a short drive on from Te Anau you'll hit Queens Reach. Right by the Waiau River, and with picnic tables and toilets, this is an excellent place to stop for your lunch before continuing on. The area is also popular for walking, fishing and boating.
McCracken's Rest
McCracken's Rest is where you'll be treated with splendid views of Te Waewae Bay and the ancient Solander Islands to the south. When the weather is fine you can see Sand Hill Point, the Hump Ridge, Paihia Point and Stewart Island. The area is complete with parking spaces, a viewing platform and picnic tables.
Waipohatu Walk and Recreation Area
A short drive from the main highway is the Waipohatu Walk and Recreation Area. Here you'll find a picnic site, from which you can take a short bush walk through the coastal forests. If you're after a longer hike, the Waipohatu Waterfall Walk is 6.5k and takes about three hours.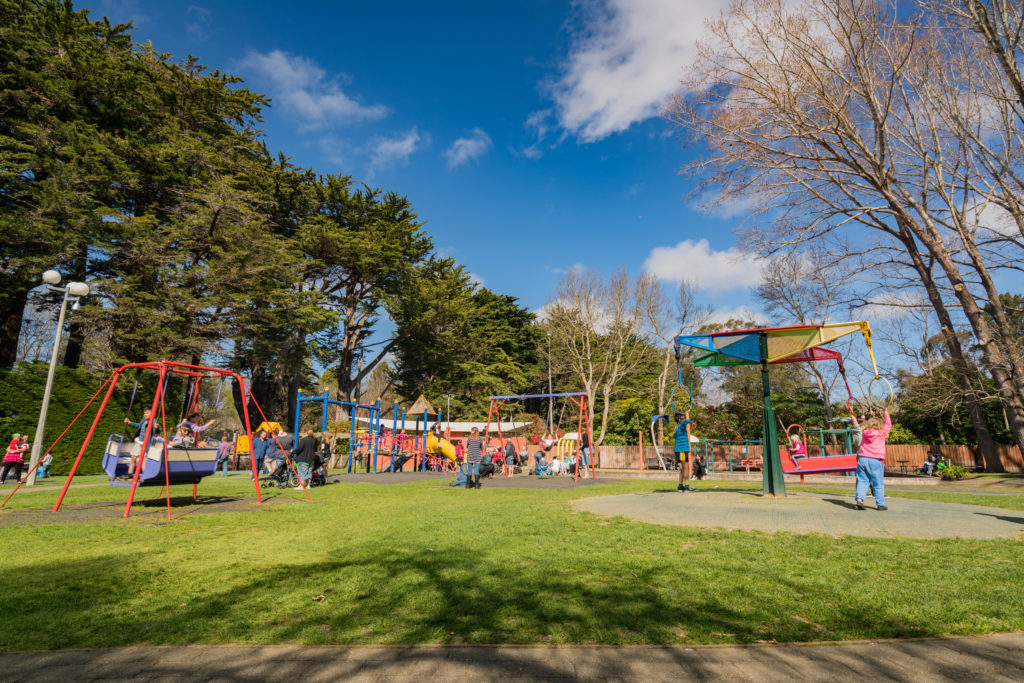 Kids Playground, Queens Park
Queens Park in Invercargill is a great place to stop for a picnic, especially if you've got kids in tow. The large and varied playground can entertain the little ones while you set up your meal, and the rest of the gardens is a great place to walk and explore once the food is gone.
Queenstown Gardens
A serene break from the city, while still being very central, the Queenstown Gardens serves as a wonderful place to have a cold drink and sandwiches, either during a busy day in the city or on your way to your next destination. Along with many places to lay a picnic blanket, there's also a simple 30 minute loop walk with views of Lake Wakatipu.