Heritage on the Southern Scenic Route
Heritage on the Southern Scenic Route
The route cruises by natural landmarks, historic buildings and local museums where you can learn more about the riveting reality of days past.
The Southern Scenic Route (SSR) passes through many sites of historical significance, offering fascinating glimpses into times past. These landmarks, buildings and museums are an excellent way to discover more about the origins of New Zealand's South Island.
Exploring natural landmarks
McCracken's Rest invites you to look one million years into the past. From the viewing platform, look out over Te Waewae Bay to see the ancient Solander Islands, that were formed from the remnants of a volcano. Maori legend says the Solanders were created when Kewa the whale chewed between Stewart Island/Rakiura and the mainland, and tossed aside its broken tooth and crumbs.
Whale Fossil Lookout gives excellent views of Lake Waihola, and also houses whale and dolphin fossils from the nearby lime quarries that are 24-34 million years old.
Cosy Nook/Pahi is a historic Kai Tahu settlement, where once 40-50 homes of the local Maori iwi stood and many came to trade goods and services. The small nearby island of Matariki was a defended pa site. Today, you'll find many fishing boats, holiday homes and calm spots for a bite to eat.
Bluff Hill/Motupohue offers views over the Foveaux Strait/Te Ara a Kiwa and the Southland Plains, and includes walking tracks from one to three hours. It's a place of cultural significance to Kai Tahu, and is a topuni site. This refers to the traditional Kai Tahu custom of rangatira (chiefs) extending their mana (power and authority) over areas or people, by placing their cloaks over them.
Visiting historic buildings
Sod Cottage, open to visitors at any time, was built in the 1860s as a stopping place for miners heading to the goldfields. It has been restored by the South Otago Historical Society, and was reopened on May 30, 1970.
Invercargill Water Tower, sitting at 40 metres high, is arguably the city's best-known landmark. The tower was the city's main water supply, and took 300,000 bricks to be built. It was completed in 1889. Due to earthquake safety, the tower isn't open to the public, but you can still visit the site.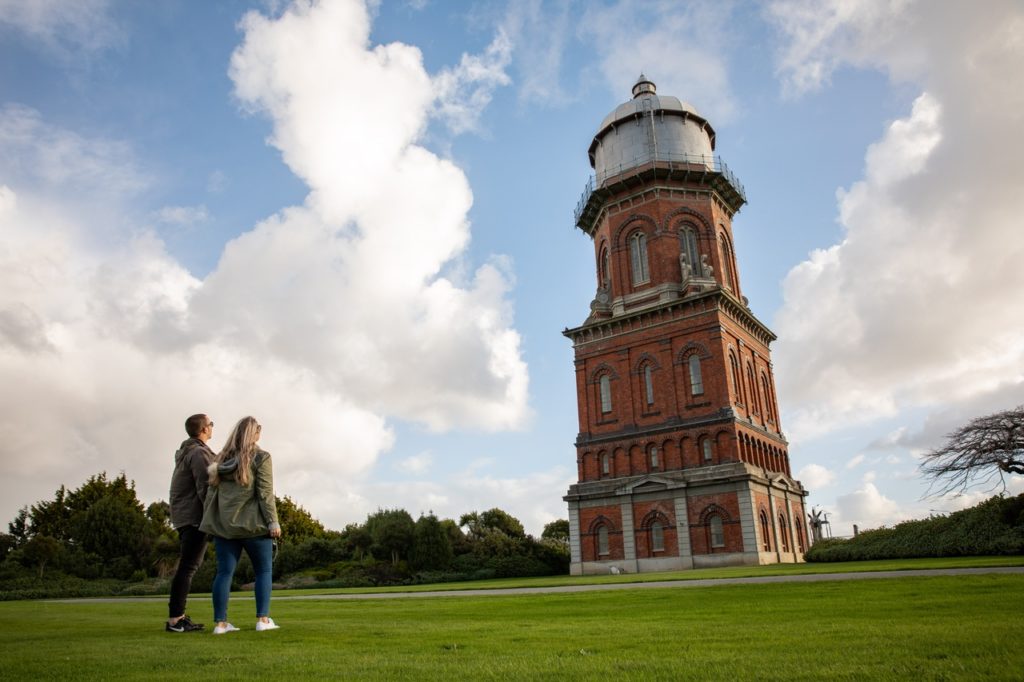 The Dunedin Botanic Garden was completed in 1869, making it New Zealand's first botanic garden. It's now recognised as a Garden of International Significance and includes many sunny lawns, plant and bird species, horticultural and botanic collections, and a geographic plant collection with flora and fauna from all over the world.
Larnach Castle is the country's only castle, built in 1871 by William Larnach. It is now owned by and cared for by the Barker family, who purchased it in 1967 and have been restoring it ever since. You can choose to purchase a ticket to the gardens or both the gardens and the castle.
Finding heritage stories at local museums
The Waikawa Museum and Information Centre presents many displays about early settlers and lives in this once busy port town. There are stories about early agriculture, shipping disasters, goldmining and sawmilling. Near to the centre are short walks of around 20 minutes.
Owaka Museum is dedicated to preserving and sharing the history of The Catlins region, sharing maritime heritage stories, facts about early life in the region, Maori taonga and family lineage documentation.
Te Hikoi Southern Journey Heritage Museum, a short drive from Invercargill, provides interesting insight into Maori and European settlement in the area. There are life size displays, ancestral stories and interactive exhibits.